The mussel Mytilus galloprovincialis, is widely distributed in Bohai sea, Yellow sea and East sea of China. As a typical marine organism in intertidal zone, it has high adaptability to intertidal environmental stresses. Therefore, many researchers focus on the resistant and adaptive mechanism of the mussel to intertidal environmental factors.
Recently, the marine ecotoxicology research team has characterized an important defence-related protein, chicken-type (c-type) lysozyme from M. galloprovincialis. With the identification of this c-type lysozyme, they demonstrate that all the three major distinct lysozyme types including c-type, goose-type (g-type) and invertebrate-type (i-type) lysozymes exist in this mussel, which will lay a foundation for revealing the molecular evolutionary mechanism of lyzoyme in marine mollusks. They also found that the recombinant c-type lysozymes could kill several common pathogens. In addition, the expression level of c-type lysozyme was up-regulated after pathogen infection. The above results indicate that c-type lysozyme play an important role in immune response of the mussel. Moreover, the researchers have shown that the c-type lysozymes from bivalves underwent positive Darwin selection during the evolution. It has been shown that positive Darwin selection is an important basis of adaptive evolution and is also one of the major forces of biological evolution. Therefore, the bivalves could effectively kill pathogens to adapt to the intertidal environment during their evolution. All these results will bring lights to understand the adaptive evolutionary mechanism of the mussel to intertidal environment.
This work titled " A Novel C-Type Lysozyme from Mytilus galloprovincialis: Insight into Innate Immunity and Molecular Evolution of Invertebrate C-Type Lysozymes " has been published in PLoS One (doi:10.1371/journal.pone.0067469).

Figure 1. Nucleotide sequence (a) and three-dimensional structure (b) of MgCLYZ. The asterisk (*) indicates the stop codon. The start and stop codons are included in a box. The signal peptide and polyadenylation signal are underlined with solid line and dot line, respectively. The active catalytic residues are in bold and shaded in dark.
Figure 2. Analysis of recombinant MgCLYZ protein. (a) SDS-PAGE analysis of rMgCLYZ. About 5 microgram recombinant protein was loaded and the 15% gel was visualized by Coomassie brilliant blue R250 staining after electrophoresis. Lane 1: negative control for rMgCLYZ (without induction); Lane 2: induced expression for 4 h of rMgCLYZ; Lane 3: induced expression for 5 h of rMgCLYZ; Lane 4: protein molecular standard; Lane 5: purified rMgCLYZ. (b) MALDI-TOF/TOF identification of the peptide (peptide A: –HESNFHYDAIGTNSGSK–; peptide B: –NQGVPDSDLR–) of rMgCLYZ.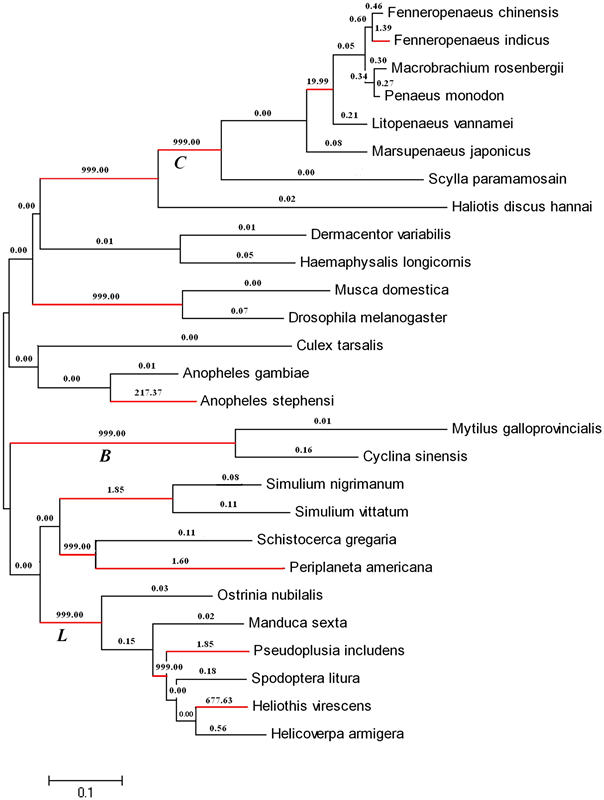 Figure 3. Positive selection at c-type lysozyme across the invertebrate phylogeny. The number shown along each branch is the non-synonymous to synonymous rate ratio for the entire gene along that branch. The branches in red show strong evidence of undergoing positive selection. C – Crustacea branch, B – Bivalvia branch, L – Lepidoptera branc