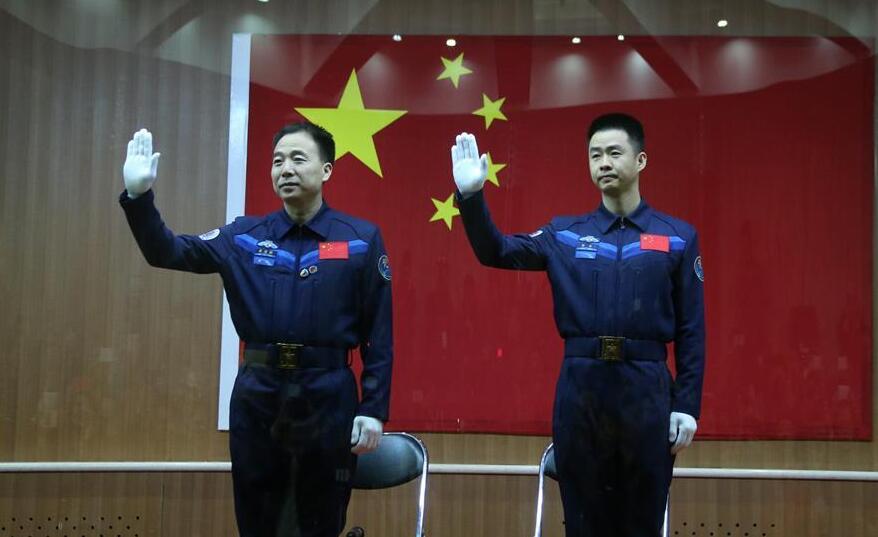 Chinese astronauts Jing Haipeng (L) and Chen Dong meet the media at a press conference at the Jiuquan Satellite Launch Center in northwest China, Oct. 16, 2016. The two male astronauts will carry out the Shenzhou-11 mission. The Shenzhou-11 manned spacecraft will be launched at 7:30 a.m. Oct. 17, 2016 Beijing Time (2330 GMT Oct. 16). (Xinhua/Li Gang)
BEIJING, Oct. 16 (Xinhua) -- Astronauts with China's Shenzhou-11 manned spacecraft, which is scheduled for blast-off early Monday, will be special correspondents for Xinhua News Agency during their space mission.
Jing Haipeng and Chen Dong, the two male astronauts, will board the spacecraft at the Jiuquan Satellite Launch Center in northwest China, Wu Ping, deputy director of China's manned space engineering office, told a press conference Sunday.
In addition to their assigned tasks, the two special correspondents will share their work and life in space via text, audio and video through Xinhua's media services. Their photos taken in space will also be shared by Xinhua.
It will take the spacecraft around two days to dock with the orbiting space lab Tiangong-2, and the astronauts will stay in the space lab for 30 days, Wu said.
The content created by the astronauts will be a diary, tracking the special correspondents' experience of living and working in space.
"I am looking forward to viewing Earth and our motherland from space," said Chen, adding that he hoped to be able to take many photos and enjoy the celestial scenery.
Moreover, the astronauts will interact with the audience. Xinhua will collect questions from space fans, with the #AskTaikonaut hashtag on its Twitter and Facebook accounts.
Xinhua will also showcase the content created through its multiple new media channels.
The move is the latest by Xinhua to develop its media convergence.