Dr. Jesko Hirschfeld, the Institute for Ecological Economy Research (IÖW), Berlin, Germany, paid a visit to Yantai Institute of Coastal Zone Research (YIC) on April 26, 2011.
The IÖW is a leading research institute on ecological economy research which has been around for almost 25 years They develop strategies and courses of action for sustainability - for an economy that secures a good living and protects its natural resources.
At the IÖW, scientists from different disciplines work together in teams – economists and engineers, sociologists and psychologists. Their common task is to recognise and identify the causes of social challenges and develop possible solutions. With curiosity and expertise, conviction and independence. Research design and methods are individually tailored to each project.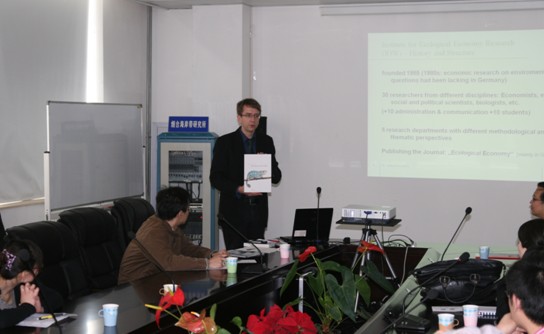 Dr. Jesko Hirschfeld outlined the history of IÖW, especially the project "Socio-economic analysis
for integrated water management". Delegates from YIC responded with the project on coastal research.
Both sides had a heated discussion and agreed to take cooperation in future research.