Halogenated nitrophenols (HNPs) are widely used in the syntheses of agricultural and industrial chemicals and are common aromatic halogenated disinfection by-products during chloramination and chlorination of water. HNPs in the environment have caused great problems for human health and ecosystems security. 2,6-dibromo-4-nitrophenol (2,6-DBNP), an emerging representative of HNPs, has been identified in various environment. This compound was dozens to hundreds of times more cytotoxic than several regulated disinfection by-products by the U.S. EPA. Microbial catabolism plays key roles in the degradation of halogenated nitrophenols in the environment. However, to date, there is no data available on the microbial degradation of 2,6-DBNP.
  Recenetly, Prof. Hu xiaoke and her team in Yantai Institute of Coastal Zone Research revealed the microbial degradation process and mechanism of 2,6-DBNP. They proved that Cupriavidus sp. strain CNP-8 has the ability to utilize 2,6-DBNP, and the degradation of 2,6-DBNP conformed to Haldane inhibition model. They identified the hnp gene cluster responsible for 2,6-DBNP catabolism in strain CNP-8 by comparative transcriptome and RT-qPCR analyses. HnpA, a FADH2-dependent monooxygenase, catalyzes the sequential denitration and debromination of 2,6-DBNP to 6-bromohydroxyquinol (6-BHQ) in the presence of the flavin reductase HnpB, and knockout and complementation showed that hnpA is necessary for strain CNP-8 to utiluze 2,6-DBNP. HnpC, a 6-BHQ 1,2-dioxygenase was proposed to catalyze the ring-cleavage of 6-BHQ during 2,6-DBNP catabolism. Prof. Hu's work fills a gap in the understanding of the microbial degradation process and mechanism of 2,6-DBNP, and the work was detailed in Journal of Hazardous Materials (2019, 361: 10-18).
  Recently, Prof. Hu xiaoke and her team have also reveal the microbial degradation mechanism of 2-chloro-5-nitrophenol (Frontiers in Microbiology, 2017) and 3-methyl-4-nitrophenol (Frontiers in Microbiology, 2016) for the first time. Moreover, they have remediated the para-nitrophenol, 3-methyl-4-nitrophenol, and 2-chloro-4-nitrophenol-contaminated soil by bioaugmentation (Scientific Reports. 2017). Prof. Hu's serial work enhances the understanding of the environmental fate of typical substituted nitrophenol pollutants and provides valuable insights into the bioremediation.
  Min Jun research assistant was the first author of above studies. These researches were supported by the National Natural Science Foundation of China, the State's Key Project of Research and Development Plan, the Foreword Key Priority Research Program of Chinese Academy of Sciences, the State Key Laboratory of Microbial Metabolism, Shanghai JiaoTong University, and the Yantai Science and Technology Project.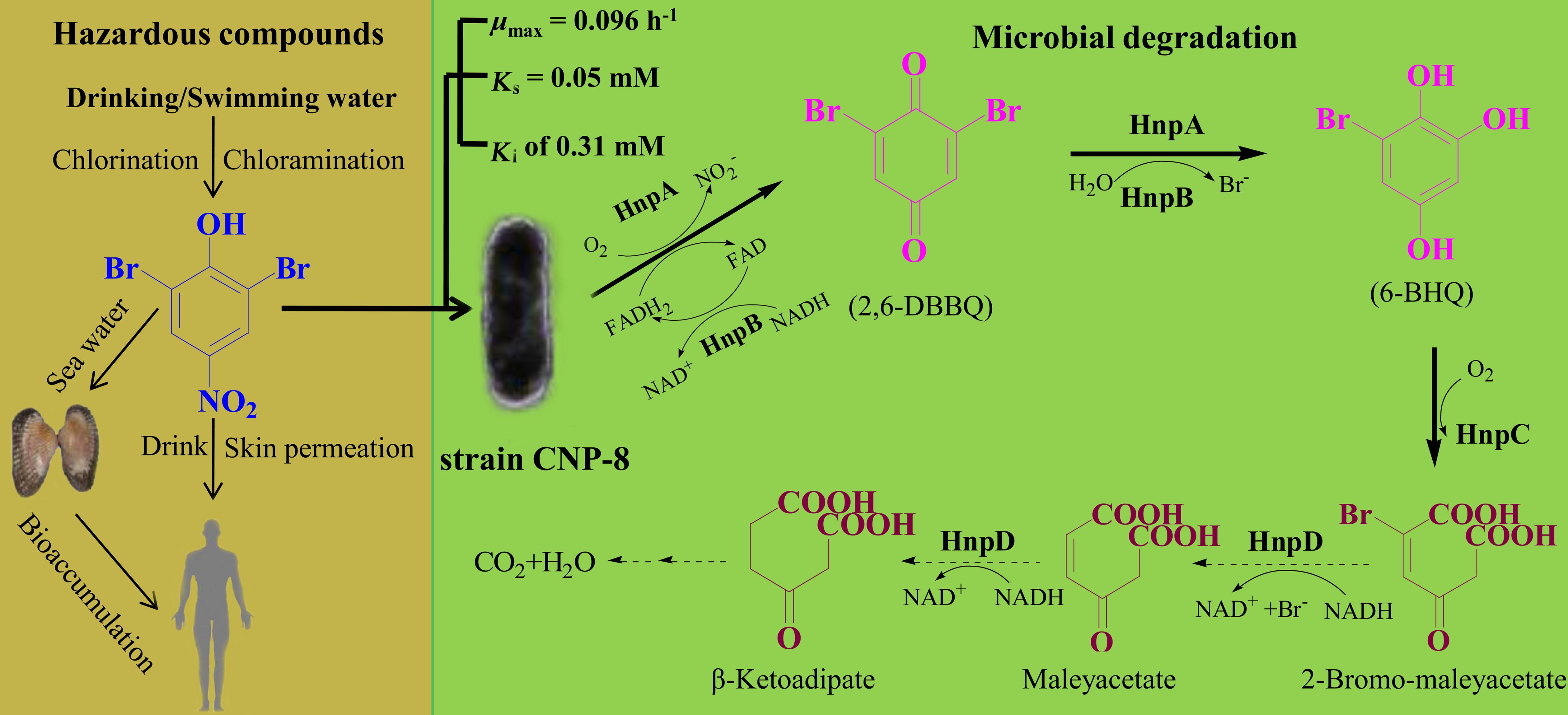 The microbial degradation process and mechanism of 2,6-DBNP